Aseptic technique - Any health care procedure in which added precautions, such as use of sterile gloves and instruments, are used to prevent contamination of a person, object, or area by microorganisms.
Mosby's Medical Dictionary, 9th edition. © 2009, Elsevier.
-Leo Praesen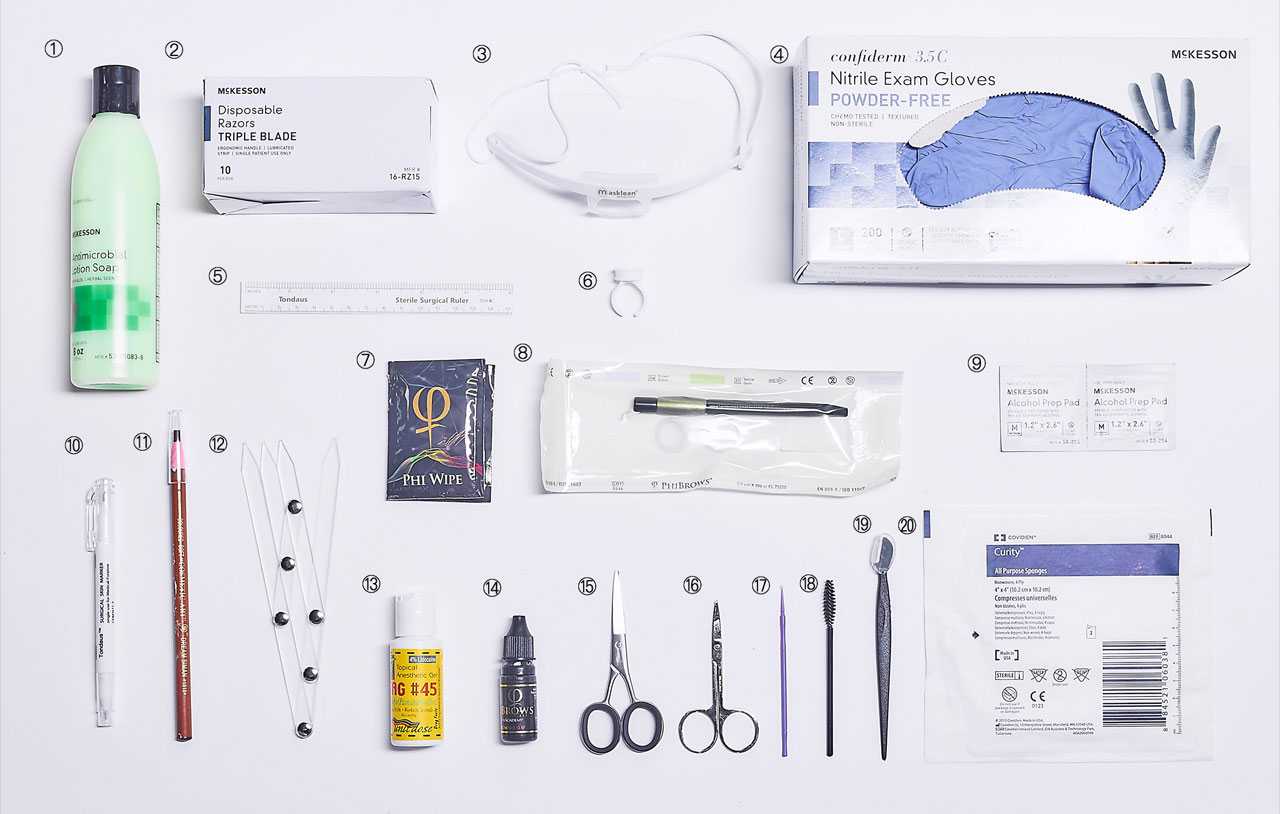 (Some of the) Tools I use: 1. McKesson Antimicrobial Lotion Soap. 2. McKesson Disposable Razors, triple blade. 3. Masklean Transparent Sanitary Mask. 4. McKesson Nitrile Exam Gloves, powder-free. 5. Tondaus Sterile Surgical Ruler. 6. Pigment Container Ring, double section. 7. Phi Wipes, 70% alcohol. 8. PhiBrows Disposable Tool, classic, sterile. 9 (UPDATE: now-a-days I prefer to use Tina Davies' Harmony disposable tools which are made from surgical steel). McKesson Alcohol Prep Pad, sterile, 70% isopropyl alcohol. 11. Tondaus Surgical Skin Maker, single use, medical purpose. 12. Surgical Colored Pencil. 13. Golden Ratio Ruler. 14. Topical Anasthetic Gel. 15. PhiBrows Premium Microblading Pigment (UPDATE: I am also using Swiss Color now, they are both very good) Sterile, Made in Germany ResAp (2008) compliant. Compliant with German and Swiss Regulation on tattooing substances. 15. Professional Makeup Eyebrow Scissors (large). 16. Professional Makeup Scissors (small). 17. 18. Professional Disposable Makeup Eyebrows Brush. 19. Professional Makeup Eyebrow Disposable Blade, single-blade. 20. Covidien Curity All-Purpose Medical Sponges, 4"x4", sterile.
Microblading is an amazing procedure in the right hands. It has been experiencing an explosive growth within these past two years in the USA. But this growth causes also influx of not so experienced artists who finished sometimes one day (!) "courses". I constantly run into their ads on Internet: learn Microblading in one day, no previous experience is necessary!
Well, before you decide to have Microblading done on your eyebrows, please read this article carefully, it is very important.
I worked at Miami Beach Plastic Surgery Center and MedSpa, under board certified plastic surgeon, Dr. Tachmes, now I am working with another world renowned board certified plastic surgeon, Dr. Hochstein (http://www.lhochsteinmd.com). And I not only strictly follow the sterile medical precautions, but use sterile disposable materials.
The most important Microblading tool is so-called microblading  "pen". There are two different types being used in the industry: 1) regular, metallic or plastic multi-use with replaceable blades; and 2) fully disposable sterile pens. A regular pen consists of the handle, needle holder collar and "blades" that are replaceable. But unlike permanent makeup cosmetic tattoo machine, those  "blades" are inserted into the blade holder and the distance between the needle tips (I.e. patient's skin) and the holding collar are about 3-6 mm.

Microblading non-disposable pen

Microblading non-disposable pen parts: handle, collar, blade holder, blade
Obviously, the holder gets in contact and gets contaminated. 
Yes, the Microblading "specialist" disposes the blades, but not the pen. Pen is reused on the next patient. It is absolutely necessary for the pen handle and the blade holder to be sterilized in the medical autoclave after EVERY use. Those autoclaves are expensive, even the small ones cost between $4,000-$8,000. 
It takes usually about 1-3 hours (dry heat wrapped 285F-340F), depending on the pressure and the temperature for the autoclave to sterilize these tools. And even that - is not enough: the blade holder collar usually has a rugged surface (I don't know why, I guess because it was originally intended to hold the blades to cut and carve wood and plastic, you can buy them in any arts and crafts store).
This rugged holder makes it extremely difficult if not impossible to clean them. So you would have to dispose off them anyway.

30x magnified under digital microscope photos of non-disposable pen blade holder. Source: http://www.cosmetictattoo.org
Now, according to good old common sense: if those artists want to save money on using non-disposable pens instead of sterile disposable ones, do you think they are eager to spend thousands of dollars on autoclaves? 
The blades cost about $0.2 a piece, the cheap disposable pen - $5-$10, I use more expensive (100% disposable) tools from Tina Davies and Phibrows, they are proven to be better for the work I perform. 

Microblading generic cheap disposable pen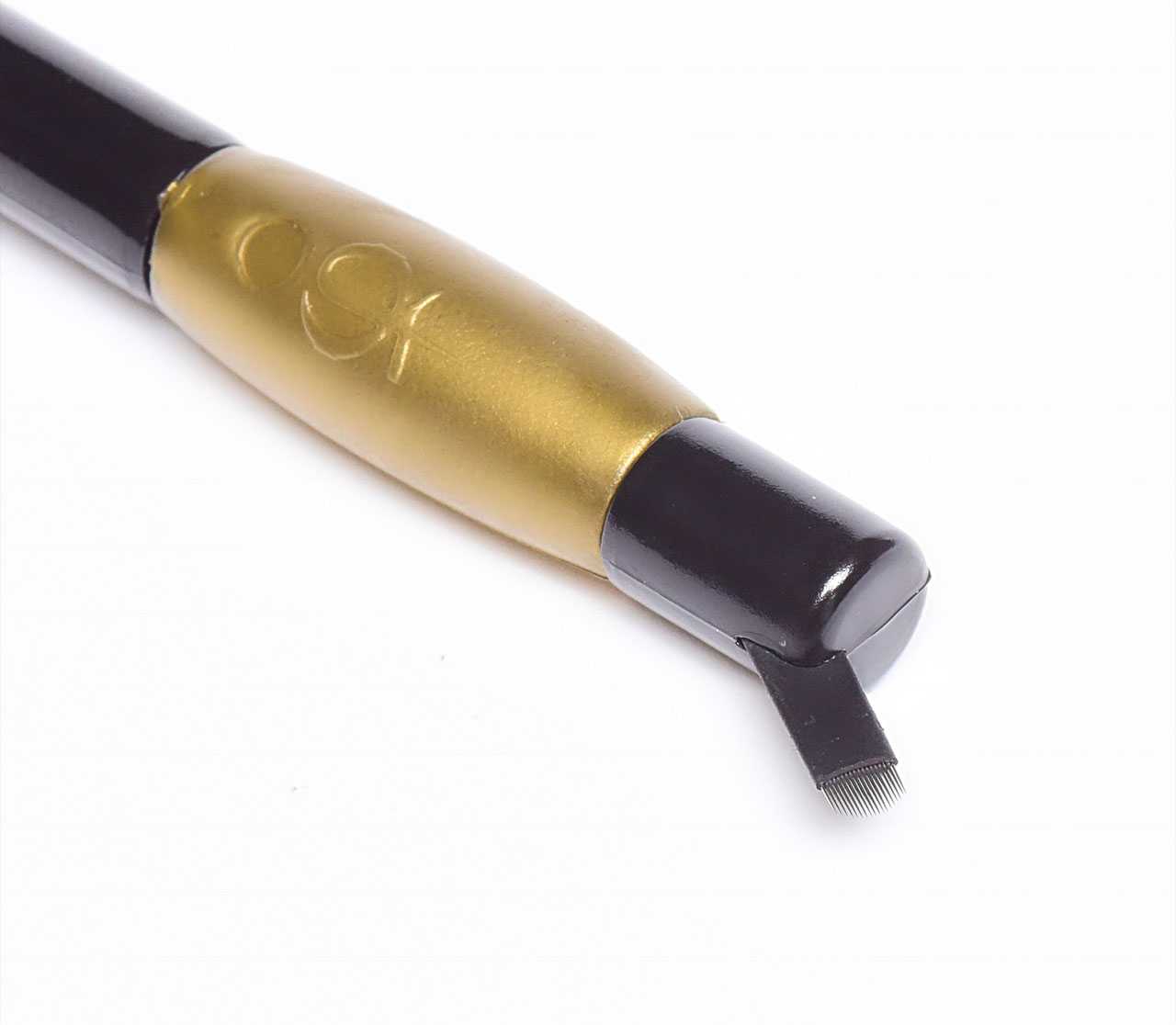 PhiBrows 100% disposable pen in a sterile package and the head part 
Numbing by using medical grade anesthetic topical cream
Since we are a medical practice, we can use medical grade anesthetic topical creams. They are only available by prescription to the medical offices. You cannot buy it as an over the counter drug.
99.9% of so called Microblading places are just beauty salons, they dont have access to pharmacys' prescription system. So they only have to use those inevfficient topical creams that give you very minuscule numbing effect. In our office we provide all kind of medspa services: Botox, Dysport, Juvederm, Kybella, Coolsculpting etc. Most of them, especially fillers, require substancial numbing so that patients feel hardly any pain.
 I would like to add that if pain is not under control, then, besides patient's suffering, it causes body's complex biochemical reactions. That in turn can negatively impact the Microblading results, look, shape and longevity of the hair strokes. 
 Ability to use the right anesthesic prescription grade oinements is another seriuos advantage to have the Microblading procedure done in the medical office under the supervision of the licenced health providers.