Part II
2 - Have COVID-19 Liability Release Form ready now!
If you are a professional Microblading and PMU artist you know it is better not to work on anyone before they sign the designated consent forms. Even if you do not have your own business, LLC etc, you want to be protected from liability and even credit card charge backs from scammers.
And that's why we use consent forms as a tool for clients' better understanding of procedures and outcome as well as protection for you as a beauty professional and a Microblading/ PMU technician. 
A good consent form should cover 6 key topics:
The treatment: what is it?
How is it done/ risks
Options
Aftercare instructions
Outcomes & realistic expectations 
Client's acknowledgement
If you are a smart professional Microblading and PMU artist, and you do care about the environment and not spend your hard earned cash on paper forms. 
Instead, you use the MICROBLADING APP's electronic consent forms for all of your services.
The MICROBLADING APP is a pioneer in electronics PMU & Microblading consent forms for any mobile device in our industry, It's free to download and it comes preloaded with useful templates in English, Spanish and Portuguese.
You can access your clients' files at anytime, anywhere while you are on the go with Microblading App by using your mobile device (phone or tablet), because who walks around with a computer right? Would you go jogging with your phone or your lap top?
And now you can also find a template COVID-19 Liability Release Waiver Form preloaded inside the app. Like all of the other templates there, you can use the form as is or modify to your liking.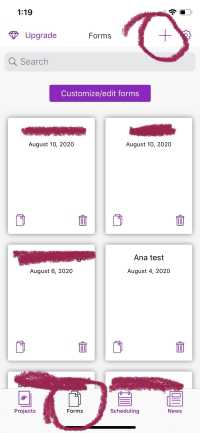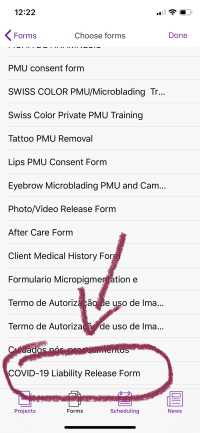 Remember when I told you in the end of PART 1 of this article about the need for reviews and consent from your clients to actually approach them via SMS?
The Microblading App comes with preloaded SMS consent lines in each English template forms, including the new COVID-19 template form. 
Still skeptical that electronic forms are better than paper? How about this; it saves you a ton of money!
Let's break down the overall costs for you (and me, since I am not very good in maths either!):
Inkjet printers vary in the cost-per-page, but tend to fall within the same general range. 
Black-and-white text will usually run at 5-10 cents per page, and color printing will run between 15 and 25 cents per page. 
(Source: Inkjet vs. Laser: Which printer is right for you? | Tom's Guide)
So let's say you print a 7 page form for 1 client to fill out including, After-care Instructions, Photo Relase Consent, Tattoo, PMU Microblading Consent, Medical History, etc…
If you do 4 clients per day you print 28 sheets (4x7).
28 sheets times 5 cents = $1.40 (one dollar and 40 cents)
If you work 5 days a week on 4 clients that's $7 ($1.40 x 5)
So 7 bucks per week you send in paper forms….
With Microblading app you can have unlimited electronically stored forms for $9.99 per month.
But hold on, maybe you don't have that many clients, you are not ready to subscribe to anything that will automatically charge your credit card monthly.
No problem!
You can pay as you go and it will still be cheaper than paper forms!
Math again?
Yes, it's true, when you chose to pay as you go our cost is $0.30 per client (still cheaper than $1.40 per client for paper forms remember?).
Plus when you chose to buy a package we DO NOT store your credit card number, so you only purchase more forms packages when you need them without any hidden fees.
And the best we have saved for last; not only you can download the app for free but your first 10 client folders (With unlimited forms per client folder inside) are free too. So you don't need to enter any payment info or commit to any bills or pay anything to start using the app for your paperless consent forms.
We are aware there are other forms like ours out there but none of them offer them same super affordable pricing, convenience and most of all concierge customer service as ours, and this we guarantee.
Don't know how to use or setup the app? We have videos and step by step tutorials at the app help page or you can always contact us if you have any questions. 
And that is it for today, hopefully this article is helping you with your business reaping after being shut down because of COVID-19.
Stay tuned to our final part of this article (Part III) coming soon!!