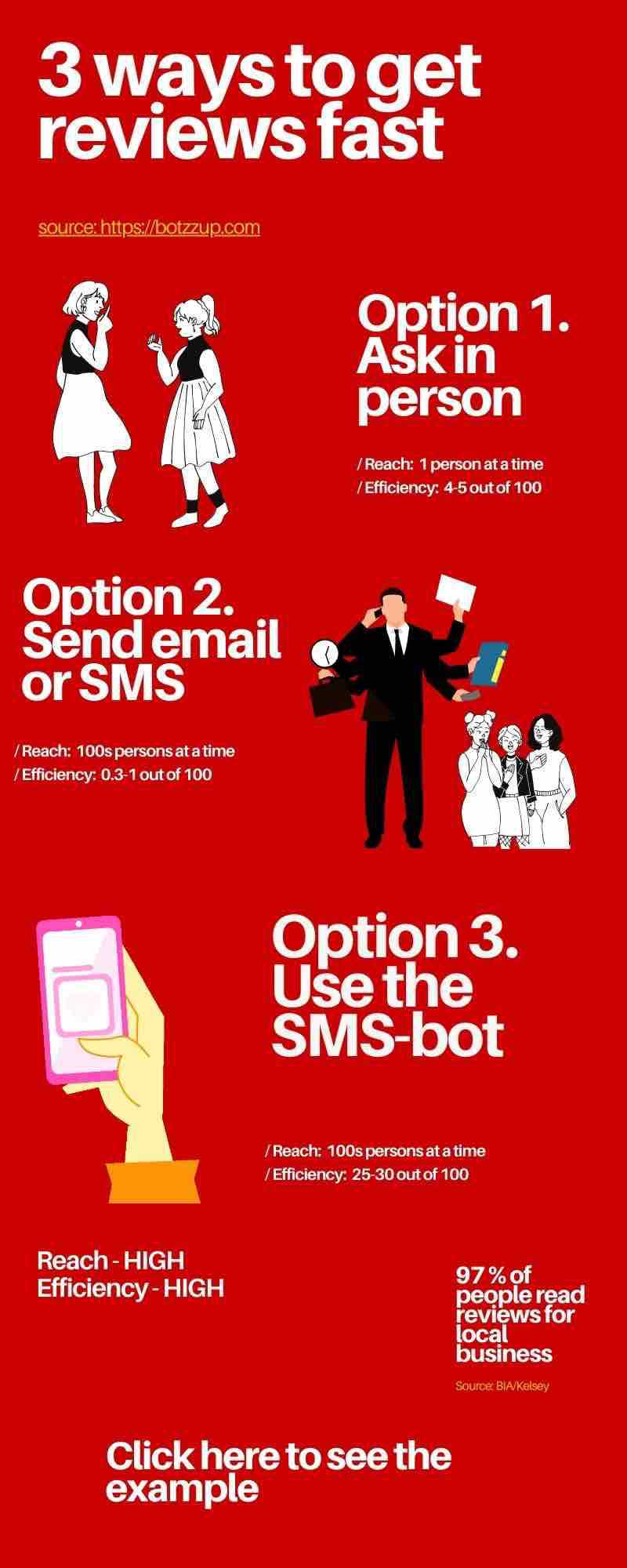 Part I
1 - Best time to collect reviews!
Now it's the best time to get more uplifting reviews for your business to help getting more clients as soon as you open your doors again by giving you SEO some much needed boost!
Many clients nowadays are very sympathetic to small businesses reopening after COVID-19. If you send a nice text they are usually happy to help.
Something like "Hi, this is Jane from Beautiful Brows. I want you to know that I am reopening now after this "coronacrisis". Would you mind to leave a review for me? It will help my business so much!"
You old time loyal clientele will be especially ready to give you a hand. You business must be client oriented a friendly though, If you were rude and unprofessional - nothing will help, lol. 
Many of you would say: "Meh… I did try it so many times in the past. Almost everyone agreed but nobody actually bothered to find my Google My Business listing, open the page section and wrote a review…" Sounds familiar?
Here is a hint I am going to tell you now and works wonders not only form me but for a few artists who follow it.
Have you heard about new free software called Botzzup? It is still in beta but works perfectly.
What it does - it sends SMS messages with a cute funny bot automatically to your client's list. You can use Botzzup to send it via email as well, but text messages are so much more powerful!
Studies show that you are lucky if 5% of your customers open emails sent in the email blast. While SMS messages have a whopping 97% opening rate!
What happens next? After clients receive these messages. That is my favorite part where "botzzups" do wonders for my listings. The bot in a nice a friendly fashion chit-chat with the clients, make them smile, even laugh.. Then writes something like "hey, Let's help "Beautiful Brows". Would you mind to leave a review for us? I can forward you directly to the Google Review page, it will take only 15-20 seconds of your time…." and place two buttons for the client to choose: 1. "Sure! I will do it!" 2. "No way!". If they answered that they don't mind, bot will immediately redirect the clients to your GMB review page. Result? 23-45% of the client who opened the bot usually leave a good review!
All you have to do is upload your client database in and it will send review requests automatically to your clients.
That system is more effective than you being remembered to bug your clients night and day so they can finally write a review. 

Just remember 3 things:
NEVER offer money, free service or discounts in exchange for reviews.
NEVER commit a "review gating": meaning trying to ask how many stars you expect from a client and if they indicate 5 - send them to the review page, others - no. That type of trick is forbidden by all major reviews platforms including Google, Facebook, Yelp, TripAdvisor etc.
DO NOT try to ask or use any software including      Botzzup     for reviews for Yelp. Yelp can punish you hard. Google is ok for you to ask people for reviews. They are actually encouraging it.

Also make sure that you got a consent from the client to send them SMS. But I can show you how you can get the consent easily in part 2 of this article. Stay tuned!